All Quiet on the North African Jihadi Front
Also published in
Caravan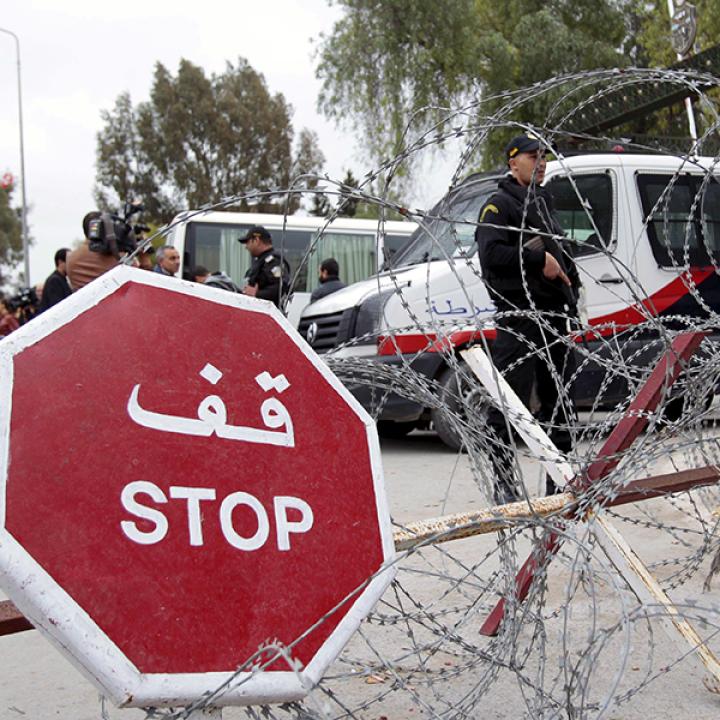 Dwindling terrorist activity in the region stands in sharp contrast to sub-Saharan Africa, but changing local dynamics and other factors could revive the threat quickly.
In the aftermath of the 2011 Arab uprisings, North Africa (Libya and Tunisia in particular) became a flashpoint for large-scale jihadi mobilization. Yet more than a decade later, both countries and the region, in general, are relatively quiet—at least with regard to jihadism—in contrast to the growing strength of the jihadi movement in sub-Saharan Africa. Tracing the evolution of the movement and its current state in North Africa offers insights into its prospects for the future.
Jihadism At Its Height in North Africa from 2011-2016
Following the overthrow of former Tunisian president Zine el-Abidine Ben Ali and the killing of Libyan leader Muammar al-Qadhafi, a number of Ansar al-Sharia groups, which were fronts for al-Qaeda, were established in Tunisia and Libya. Similar but unsuccessful efforts were made in Morocco. Likewise, the Algerian-based al-Qaeda in the Islamic Maghrib (AQIM) tried to take advantage of the changed regional environment, but the Algerian state continued to degrade its capabilities. The organization ended up becoming more relevant instead to the insurgency in Mali in the subsequent decade.
In the years after the uprisings, Ansar al-Sharia in Libya (ASL) and Tunisia (AST) primarily focused on a da'wa (proselytization)-first approach, emphasizing outreach, social services and proto-governance. Finding itself in the midst of a civil war environment, ASL also took part in insurgent activity against its enemies. The ability to openly recruit (and train in the Libyan case) created new opportunities for jihadism to expand in the region. In Syria, where the al-Qaeda branch Jabhat al-Nusra and later Islamic State (IS) took hold, it provided for the large-scale mobilization of foreign fighters. This is why Tunisia, in particular, had such an unprecedented and large-scale mobilization to Syria from 2012-2017.
Both groups were involved in attacks against American interests. The violent nature of their ideologies and their desire to sow fear and unrest as a means of bringing about their own version of an Islamic State led inevitably to a confrontation with the United States. The infamous Benghazi consulate attack and the lesser-known attack on the US embassy in Tunis in September 2012 were notable examples of this. The result was an increased effort to crack down on both organizations and, as a consequence of local pressures, a rise in the number of fighters going into Syria.
It was around this time that IS began to garner support from the global jihadi movement. The Libyan and Tunisian fighters who had been sent to Syria were called back to establish the Caliphate in Libya, and IS would eventually control a swath of territory in north-central Libya for about two years. It also provided a platform for Tunisians to plan and execute large-scale external operations in their own country, most notably, the Bardo Museum attack in March 2015 and the Sousse Beach attack in June 2015. In response to the growth of IS locally in Libya and its terrorism campaign next door in Tunisia, the US and its coalition of allies targeted IS in Libya and ejected it from its territory by December 2016. Since then, it has yet to recover, even though a pocket of individuals remains in central Libya in the Sebha region, however with insignificant relevance to day-to-day life. Similarly, through concerted counterterrorism and counterinsurgency efforts, the level of violence in Tunisia began to decrease to the point where it became of little concern to the average Tunisian by 2019.
During this time period, IS also attempted to expand into Algeria, creating an official branch called Wilayat al-Jaza'ir (the Algerian province). Its first operation was the kidnapping and beheading of a French tourist. Subsequent actions by Algerian security forces were able to thwart IS and render it a non-factor locally. Still, IS would claim 13 attacks in Algeria between 2014 and 2020, with its last attack in mid-February 2020. Unlike its neighbors, Morocco has never, thus far, faced a successful IS attack.
Jihadi State of Play Today
The state of jihadism in North Africa in 2023 is quite dire as measured against the broader movement. At this juncture, al-Qaeda is no longer an active presence in the region. It is true that leaders of the group continue to release propaganda, in particular trying to take advantage of the Hirak movement in Algeria in recent years, but AQIM has not claimed an attack in Algeria since February 2018. Likewise, AQIM's branch in Tunisia, Katibat 'Uqbah Bin Nafi (KUBN), has not claimed an attack since April 2019. Similarly, the Islamic State's activities have also faltered in the region. Aside from the few high-profile attacks and low-level terrorism campaign in Algeria from 2014 to 2020, the picture is just as bleak in Libya and Tunisia, which were once reliable strongholds for the movement.
Following the territorial disintegration of IS in Libya (ISL) in December 2016, the group went underground and was relatively quiet in 2017, partly due to U.S. airstrikes against its camps outside Sirte. ISL claimed responsibility for just four attacks that year: two in Sirte, and one each in Misrata and Ajdabiya. These were likely impromptu attacks rather than part of a coordinated campaign. The tempo began to increase in February 2018, when ISL seemingly decided that the time had come to emerge from the shadows and renew its insurgency. The group conducted attacks in many locales through December of that year: four in Ajdabiya, three in Tripoli, two in Jufrah, and one each in Sirte, Awjila, al-Uqaylah, al-Fuqaha, Wadi Kaam, and Tazirbu. ISL became so confident that in August 2018, it began to man checkpoints on the road between Ajdabiya and Jalu; two months later, it claimed it had taken over the town of al-Fuqaha for a few hours.
This momentum was halted in December 2018, when the Libyan National Army (LNA) discovered an ISL base near the oasis town of Ghadduwah. The group then moved to the volcanic field of Haruj and began operating again in April 2019, conducting eleven attacks in the ensuing weeks: two in Sabha, two in Tmassah, and one each in al-Fuqaha (a town it once again claimed to take over briefly), Ghadduwah, Zillah, Darnah, Samnu, Haruj, and Checkpoint 400 between Sabha and Jufrah. These attacks came to an end when the LNA found ISL's latest base of operations in mid-June 2019. Since then, ISL activity has been very limited. In propaganda desert life is played up, and much is made of pledges of allegiance (bay'as), but actual military operations between 2020 and 2022 have been minimal and inconsequential. All the attacks have been relatively low impact, not part of a broader campaign but rather only disparate attempts to stay relevant. It's now been more than a year since ISL's last attack.
As for Tunisia, following IS's failed attempt to take over the city of Ben Gardane near the border with Libya in March 2016, the Tunisian government has slowly degraded the group's capabilities. IS has not claimed an attack in Tunisia since February 2021. Overall, the number of terrorism attacks, whether KUBN, IS, or lone actor-inspired attacks, peaked in Tunisia in 2017 with 47 attacks before declining to 4 in 2022. None of those four attacks was attributed to any group, illustrating how insignificant a problem it has become today, compared to the more acute jihadi campaign of 2012-2019. The rise of Kais Saeid, however, as the new dictator in Tunisia, alongside continued economic, social, health, climate, and other problems, could augur a renewed effort by jihadi elements within Tunisia to become more active. 
Future Considerations
Although jihadism has abated in a publicly manifest way, it could return given the right circumstances. The governments of Algeria, Morocco, and Tunisia publicize any arrests related to terrorism or jihadism. It is therefore possible to track the broader scope of the problem-set beyond individual attacks. Quantitative analysis of the data makes it clear that individuals are still interested in plotting attacks locally and attempting to join up with foreign terrorist organizations abroad, even if such efforts do not constitute the kind of concerted campaign seen in years prior. For instance, as of May 22, 2023, in Algeria, there have been 25 terrorism-related arrests so far this year, while in Morocco there have been 7 and in Tunisia there have been 56. There is also the persistent issue of those detained for being associated with IS. Hundreds of men, women, and children from North African countries who were previously part of IS, either as willing or coerced members of the group, are being held in either prisons or IDP camps in northeast Syria. Without proper mechanisms to repatriate, rehabilitate, and reintegrate them into society in the future, they could pose new security dilemmas and threats to North African states. Therefore, even if jihadism in North Africa has probably reached its lowest level of activity in some time, it is necessary to maintain focus on the issue as any changed dynamics could alter the level of threat posed to the region as a whole as well as to local populations.
Aaron Zelin is the Richard Borow Fellow at The Washington Institute and founder of Jihadology.net. This article was originally published on the Hoover Institution website.