Sanctioning a Syrian Jihadist Leader: Implications of a Joint U.S.-Turkish Designation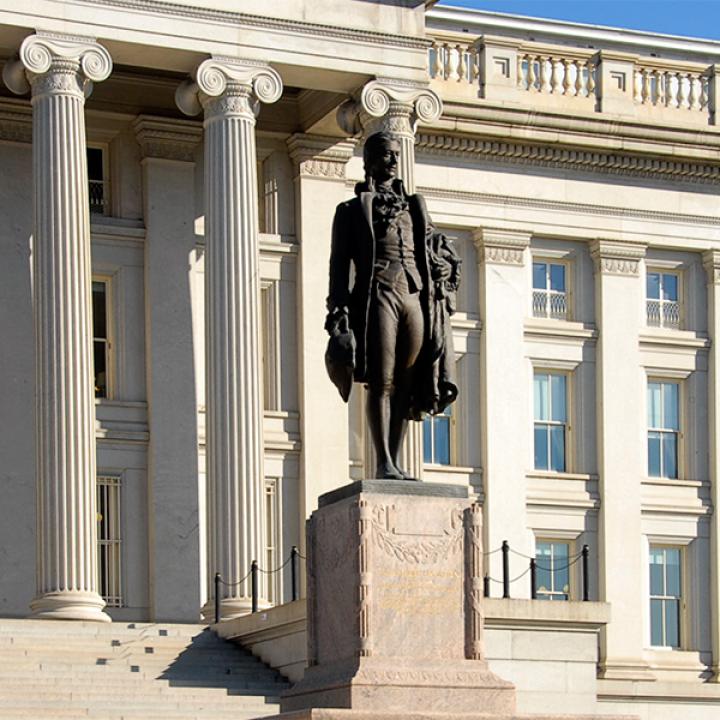 Their willingness to sanction the top HTS money man after years without a designation suggests that the group's charm offensive has not assuaged concerns in either capital.
On May 2, the U.S. and Turkish governments jointly designated Abu Ahmed Zakour (aka Omar Alsheak or Jihad Isa al-Sheikh), a senior leader with the Syrian jihadist group Hayat Tahrir al-Sham (HTS). The bilateral action with Ankara suggests that both countries are signaling their unhappiness with the group's push into areas controlled by the Syrian National Army (SNA), a Turkish proxy militia. Zakour has been a key HTS liaison to those areas.
The designation also represented both good news and bad news for HTS on the sanctions front. On one hand, the announcement is the first U.S. government document to acknowledge that HTS broke with al-Qaeda years ago; all prior designations and reports claimed they were still together. On the other hand, this is the first U.S. designation of an HTS official since July 2021, indicating that group leader Abu Muhammad al-Jawlani's various pleas for delisting have not gained traction in Washington.
Who Is Abu Ahmed Zakour?
In July 2021, two biographies of Zakour were released: one by Zakour himself and another by anti-HTS ideologue Muzamjir al-Sham. Between these documents and the details provided in last month's designation, a thorough history of Zakour's involvement in the jihadist movement and HTS can be pierced together, illustrating not only his importance and institutional knowledge, but also why the designation is so significant to the group's takeover bid in SNA areas.
Zakour grew up in al-Nayrab southeast of Aleppo city. His father is a leading figure in both the city and the Baggara tribe; indeed, Zakour grew up in a strict tribal environment. After years of standard schooling, he began taking religious lessons from Mahmoud Qul Aghassi (Abu Qaqa)—who turned out to be an intelligence asset that the Syrian regime used to recruit foreign fighters for combat in Iraq after the 2003 U.S. invasion. (Damascus feared that American forces would invade Syria next and sought to bog them down in Iraq.) At the time, Zakour and many other jihadists did not know Aghassi was an illegitimate cleric. Once they discovered his true background, they exposed him; Abu Qaqa would later be killed in 2007 by operatives from the Islamic State of Iraq.
According to Zakour, Aleppo youths began to join the Kurdish-led jihadist group Ansar al-Sunnah after 2003, and later Jamaat al-Tawhid wal-Jihad, the organization headed by future al-Qaeda in Iraq leader Abu Musab al-Zarqawi. Yet Zakour himself did not become a foreign fighter. Instead, he was responsible for coordinating accommodations and other needs for fighters transiting Syria on their way to Iraq. Together with his uncle Zakaria Afash, Zakour leveraged his tribal relationships, farms, and family cars to help move these fighters. After Afash was arrested by the Assad regime, Zakour collaborated with Umar Khattab on this project. Khattab would soon be killed in a clash with regime forces in Dael, a southern town on the old road between Deraa and Damascus, suggesting that he may have worked on logistics for the southern route into Iraq while Zakour managed the northern route.
Not long thereafter, Zakour fell into an ambush in Aleppo and was arrested. After being held in various facilities for a year, he was transferred to the infamous Sednaya Prison sometime in 2004. There, he reconnected with Afash and purportedly took on two key roles: head of the facility's al-Qaeda youth faction, and a military official in the 2008 prison insurgency that lasted for more than eight months and claimed the life of his uncle.
Zakour remained in prison until after the first wave of the 2011 Syrian uprising, when the Assad regime released a number of jihadists to discredit the legitimate protest movement—namely, by radicalizing the burgeoning anti-regime insurgency, which had begun as a primarily nationalist rather than Islamist movement, let alone jihadist. According to Muzamjir al-Sham's biography, Zakour was eventually released in 2012 following the public emergence of Syrian jihadist group Jabhat al-Nusra (JN), the predecessor of HTS. His first position with JN was deputy emir of Aleppo; later, he became overall emir of Aleppo.
Sham also claims that Zakour played a prominent role in encouraging then-JN leader Jawlani to rebel against Abu Bakr al-Baghdadi's attempts to consolidate Syrian jihadists under the nascent Islamic State of Iraq and al-Sham (ISIS) banner, urging him to pledge baya (allegiance) to al-Qaeda leader Ayman al-Zawahiri instead. Later, Zakour had a working relationship with the so-called "Khorasan Group," a JN external operations cell that was primarily loyal to al-Qaeda central and not necessarily in line with Jawlani's plans.
After JN lost monthly funding from ISIS and formally broke ties with the organization, Jawlani promoted Zakour to head of JN's economic file, a role he continued to fill as late as February 2019, according to the Treasury designation. Later, he became JN's "border emir," likely due to the money that could be derived from border crossings.
Following JN's transition to HTS, Jawlani appointed Zakour as commander of the Jaish Halab military formation (aka the Aleppo Army), and then as head of relations with the SNA. Sham's biography notes that Zakour has close relations with the SNA's Suleyman Shah Division and holds regular meetings in areas of Syria that Turkey entered during Operations Olive Branch and Euphrates Shield. According to the Treasury designation, Zakour is also a member of the HTS Shura Council, emir of its Security Department, supervisor of its economic portfolio abroad (likely why Washington coordinated the action with Turkey), and chief of its General Relations Office as of last October. The latter appointment was likely made in relation to his work with the SNA, since October is when HTS pushed to take over SNA territory as far as Azaz (in the end, it was only able to consolidate as far as Jindires and the Afrin countryside due to pushback from Turkey).
Will the Designation Be Effective?
In response to the designation, Zakour released a statement calling it "meaningless" because he does not "have a single dollar outside of Syria" and is not "financially or economically responsible for the group." He also called the sanctions "sad" because they came from an "allied country [Turkey] that we have always thought well of" due to its support for the Syrian revolution. In contrast, Zakour called the United States the "origin of terrorism and oppression of tyrannical regimes"—a message that will hardly help Jawlani's public entreaties for U.S. delisting of HTS and its members.
Whatever Zakour might think, the more pertinent question is whether or not the new designation will make much material difference to HTS. The answer is likely not. Even if Zakour is lying and turns out to have targetable assets in Turkey, many other HTS leaders probably do as well—the group is highly unlikely to put all of its finances in one person's hands. The designation is therefore more of a political statement than a major step toward choking off HTS financial capabilities.
Impeding the Path to More Territory and Legitimacy
Given Washington and Ankara's willingness to sanction the top HTS money man after years of refraining from such designations, it seems clear that the group's long-running charm offensive has not assuaged concerns in either capital. Turkey probably aims to be the ultimate guarantor of security and decisionmaking in northern Syria, and allowing an independent actor like HTS to wrest territory from a loyal proxy like the SNA would undermine that goal. HTS has been signaling such a takeover for almost a year, so Ankara likely concluded that it could wait no longer to target the group's assets.
From Washington's perspective, the designation likely has less to do with power politics and more to do with residual U.S. discomfort over the group's past, its authoritarian governance, its support for Hamas and Palestinian Islamic Jihad terrorism against Israel, and its unwillingness to go after smaller designated terrorist groups in its territory that it considers allies. There is also no U.S. precedent for delisting a jihadist group while it is still an active entity. Therefore, even if interests may converge between the United States, Turkey, and HTS on key fronts—such as the Assad regime's unpalatability, the need for greater humanitarian assistance in northwest Syria, and the desire to stem larger refugee flows into Turkey and then onto Europe—the latest designation suggests that this is not enough to overcome deeper concerns about HTS in Washington or Ankara.
Aaron Zelin is the Richard Borow Fellow at The Washington Institute and founder of Jihadology.net.