Risks of Maritime Escalation in the Strait of Hormuz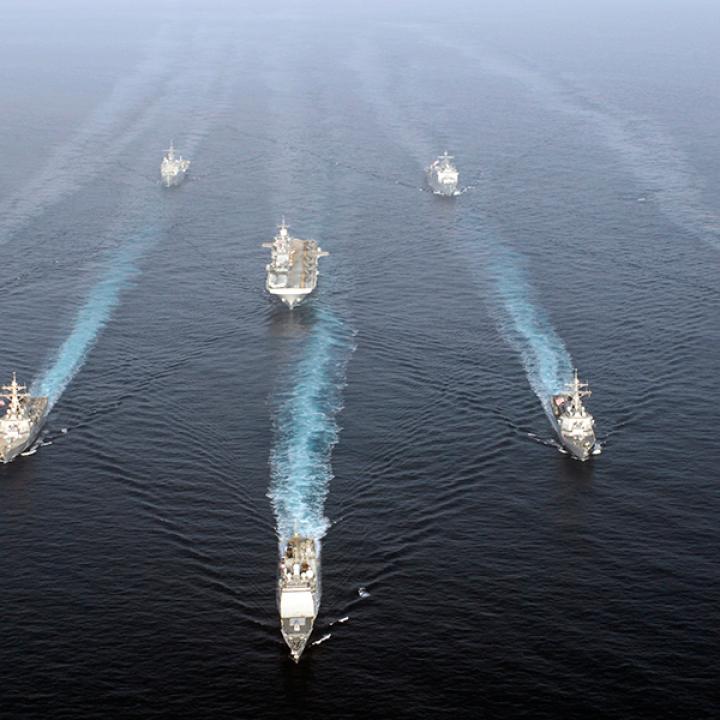 If the United States does not accompany its military deterrent efforts with strong diplomatic signals, the current cycle of ship seizures and Iranian retaliatory measures could spiral into something resembling the 1980s Tanker War.
On July 14, 17, and 20, the United States announced it was sending more military capabilities to the Persian Gulf region to bolster deterrence again Iran, including the USS Bataan Amphibious Ready Group (with an embarked Marine expeditionary unit that boasts newly certified special operations capabilities), an additional ballistic missile defense destroyer, and high-performance F-16 and F-35 fighter jets, which will augment the A-10 close-support aircraft already operating there. These measures were taken just as the Islamic Revolutionary Guard Corps (IRGC) is seemingly preparing to retaliate for the recent U.S. and Indonesian impoundment of two tankers carrying Iranian oil. On July 20, IRGC Navy commander Alireza Tangsiri issued a stark warning against any country that confiscates Iranian oil.
Tanker Seizures
On July 11, Indonesia detained the Iranian supertanker Arman 114 after it was reportedly caught making an unlicensed oil transfer to another supertanker, S Tinos, in the country's northern waters. The transfer involved approximately 2 million barrels of light crude oil worth over $300 million. According to Indonesian authorities, Arman 114 had been spoofing its automatic identification system data to falsify its position during its voyage.
Previously, when it sailed under the names Adrian Darya 1 and Grace 1, the Arman 114 was at the center of a 2019 legal battle between Iran and the governments of Gibraltar, Britain, and the United States. On July 4 of that year, the vessel was seized by British Royal Marines in Gibraltar's waters and impounded for six weeks after it attempted to transport 2.1 million barrels of oil to Syria on behalf of the IRGC Qods Force—a violation of European Union sanctions against the Assad regime. The U.S. Treasury Department later blacklisted the tanker pursuant to Executive Order 13224, which targets individuals and entities that provide support to terrorists.
In retaliation for these actions, IRGCN commandos seized the British-flagged Swedish tanker Stena Impero in the Strait of Hormuz on July 19, 2019. The vessel and its crew were detained for two months until Britain and Gibraltar agreed to release the Adrian Darya 1, which delivered its crude cargo to Syria a month later.
The latest episode involving the Arman 114 followed a series of seizures and counter-seizures that began earlier this year when the Islamic Republic of Iran Navy (IRIN) impounded the U.S.-bound, Chinese-owned, Turkish-operated Advantage Sweet on April 27 and the IRGCN impounded the Greek-owned Niovi on May 3 (the latter vessel usually carries Iranian crude oil but was empty at the time). Those seizures were ostensibly in retaliation for the U.S. court-ordered confiscation of Iranian oil from the Greek-managed tanker Suez Rajan on April 22. Similarly, Iran seized two Greek tankers last year for almost six months after the United States tried to confiscate the cargo of the Iranian tanker Lana (formerly Pegas) near Greece. Those seizures prompted Greek authorities to order the release of the Lana, which then delivered its cargo to Syria.
Yet the Suez Rajan story continues to drag on. The tanker is now anchored off the Texas coast, but U.S. companies are reluctant to offload its 800,000 barrels of crude for fear of drawing Iran's wrath on their assets in the Persian Gulf. Apparently, U.S. deterrence in the Middle East is not convincing enough to assure U.S. businesses about the safety of their operations in the region.
In conducting its various seizures and countermoves, Iran has been misusing provisions of the 1982 UN Convention on the Law of the Sea—namely Article 111, which deals with the pursuit of foreign ships in international waters if a coastal state suspects they have violated its laws or regulations while sailing through its waters. Some of the Persian Gulf's main inward and outward shipping corridors pass through Iranian waters, giving the IRGCN an excuse to interdict any ship exiting the Strait of Hormuz even under unsubstantiated accusations (e.g., by falsely claiming a vessel has dumped fuel or collided with Iranian boats).
Latest Encounters with the U.S. Navy
On July 5, the U.S. Fifth Fleet announced it had thwarted an Iranian nighttime attempt to seize two tankers in international waters after Tehran accused them of violating its laws. The incident occurred in the Gulf of Oman just southeast of the Strait of Hormuz. The U.S. Navy's timely deployment of the guided-missile destroyer USS McFaul (DDG 74), supported by a P-8 Poseidon maritime patrol aircraft and an MQ-9 Reaper surveillance drone, apparently forced the Iranians to back off.
The targeted tankers were the Marshall Islands-flagged, Singapore-owned, Hong Kong-managed chemical/oil carrier TRF Moss and the Richmond Voyager, a Bahamas-flagged, Greek-owned, U.S.-managed vessel that was transporting crude oil from Saudi Arabia's Ras al-Juayma terminal to Singapore. The smaller TRF Moss had just loaded oil at the King Fahd Industrial Port terminal in Jubail, Saudi Arabia, and was heading to China.
While reports indicate that the TRF Moss encounter ended quickly and quietly, the Richmond Voyager incident was more fraught. An IRIN warship on the scene—a Bayandor-class corvette, likely the IRIS Naghdi (82)—opened fire on the tanker from relatively close range while a U.S. surveillance plane or drone was present, first using airbursts to compel it to change course or stop, then directing heavy machine gun fire directly at the ship's accommodation area when the crew refused to comply, using what appeared to be armor-piercing 40-millimeter rounds. This was a recklessly dangerous move reminiscent of the so-called "Tanker War" during the Iran-Iraq War in the 1980s, when Iranian warships and speedboats fired guns and rockets at tankers from Kuwait, Saudi Arabia, and other nonbelligerent countries, at times aiming directly at their accommodation areas in order to cause crew casualties.
One day after the July 5 incidents, the IRGCN "seized" the Egyptian-flagged gas oil smuggling tanker NADA 2 in the Persian Gulf. According to Iranian claims and purported video evidence, the IRGCN and Iranian air defense forces successfully countered an "assertive U.S. military effort" to thwart the seizure using A-10 and P-8 aircraft, helicopters, drones, and patrol vessels. Yet the U.S. military stated that it did not intervene after it realized the ship was in fact smuggling fuel.
As for what comes next, one possibility is Iran continuing its pattern of targeting U.S.-affiliated tankers, perhaps with more IRGCN assets than IRIN. Another risk is Iran initiating fake confrontations in an attempt to collect electronic intelligence and procedural knowledge about U.S. military assets and their rules of engagement. For instance, the USS McFaul is a second-generation Aegis ballistic missile defense destroyer equipped with upgraded AN/SPY-1 radar and advanced SM-3 Block IA/IB TU interceptors, capable of performing midcourse engagement of short-range ballistic missiles more effectively. To intercept short- and medium-range ballistic missiles in their terminal flight phase, as well as cruise missiles and manned aircraft, the McFaul is also armed with SM-6 Dual I guided missiles. Iran is surely keen on learning more about all of these capabilities.
Meanwhile, the USS Thomas Hudner (DDG-116) has just been deployed to the region. As a fourth-generation Aegis ballistic missile defense destroyer, it has greater capabilities than the McFaul and could offer a better deterrent against Iranian air and missile threats. Yet while such high-value assets could help form a layered defense against various threats, they might also attract low-key Iranian provocations to test their capabilities and resolve, risking further escalation.
Conclusion
The United States is wise to add more-capable assets to the Persian Gulf theater and increase its sea and air patrols around the Strait of Hormuz. The newly deployed capabilities are reportedly intended to deter Iran, improve situational awareness, and provide cover to ships moving through the waterway. Yet it remains to be seen how far the United States is prepared to go if Tehran ignores this deterrent military presence and tries to seize more ships. Another question is how effective the newly deployed forces will be in thwarting such efforts, especially by the more zealous and capable IRGCN. Whatever the case, Washington should couple the deployments with a strong message to Iran through diplomatic channels, emphasizing that American military assets will continue to ensure safety of navigation through international waterways and maritime commons and are prepared to use force if necessary. Only then might hardcore actors such as the IRGC be deterred.  
Farzin Nadimi is a senior fellow with The Washington Institute.